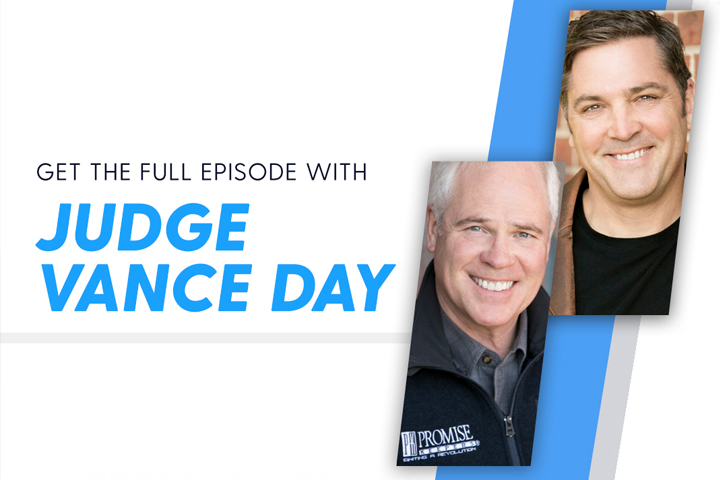 "When God allows a problem into your life, don't look at it through human eyes. Ask your father, what is it for? Because he always has a bigger adventure for us than we can ever anticipate. So, don't mistake His opportunities. When God presents an opportunity to take a stand, take it."
— Judge Vance Day, President of Promise Keepers
COLORADO SPRINGS — Ken Harrison, CEO of WaterStone and volunteer chairman of Promise Keepers, explores issues of modern-day Christian persecution, the importance of Christians exercising their vote, and how to remain steadfast with Godly principles in the public square on the latest podcast of "On the Edge with Ken Harrison."
The podcast, available in both audio and video form, can be found on Apple, YouTube and all top podcast platforms. Podcast listeners can also receive a challenging weekly devotional that will inspire them to put their faith into action.
Oregon-native Judge Vance Day is the President of Promise Keepers. Judge Day is an accomplished trial lawyer, who has tried over 300 bench and jury trials. He served the State of Oregon for nearly four years as the Chairman of the Oregon Republican Party. In 2011, Judge Day was appointed to serve as a Circuit Court Judge and was elected to a full six-year term in 2012.
Because Day respectfully refused to violate his Christian convictions by performing same-sex weddings, he became the focus of a sustained, vicious attack that sought to impugn his reputation and destroy his career. In 2018, the state's criminal case against Judge Day was dismissed.
Highlights of Judge Day's interview in the podcast include:
Christians need to prepare for modern-day persecution against their faith and learn how to remain steadfast.
"I think we're pre-Christian in the sense that the greatest revival that we're going to see is yet to come. I think we have a great opportunity. But, Christians need to recognize that they will be attacked. Jesus promised it — we will be persecuted for our faith. We need to be ready to utilize our inalienable rights that are not given by the government but given by God.
"I challenge believers to think about the persecution they are going to face. They were able to do so publicly against a sitting Circuit Court Judge in Oregon and they thought they were going to get away with their crime. They lost eventually, but the point is they will persecute anyone and they're actively doing it to others now."
The importance of electing God-fearing leaders and politicians
"The chance of getting to the United States Supreme Court is really, really low. People need to understand that local judges, local prosecutors, and local school boards are our battlefield. If we don't step into that battle and elect people who have courage, faith, an understanding of how the local process works, and are willing to defend their position, we lose every single time because that is where the record is made.
"God calls us to do — he called us to be involved. It's a basic responsibility of stewardship of any believer, any member of a republic, frankly, to vote. Christians need to vote, but this responsibility is not discharged just by voting. It's discharged by studying who these people are with discernment."
God is not going to let us remain comfortable, retreated in our safe churches. It is our responsibility to fight in the public sphere for Godly principles.
"It was about a year ago that we had the freedom to practice our religion the way we saw fit in our own buildings, but we were threatened with 'don't you dare take it out in the marketplace'. It's sad that this has happened with the North American church. For the most part, we retreated into our buildings and we think we're safe there. But, God is not going to let that happen. He's not going to allow us to remain safe.
"One of Satan's biggest lies, besides reminding us of everything we have done wrong and telling us we're disqualified, is that we don't really matter and we aren't capable. Promise Keepers is committed to encouraging men and women to fight back and get involved in their communities as local leaders with Godly values."
MEDIA NOTE: Please email [email protected] to schedule an interview with WaterStone CEO Ken Harrison.
KEN HARRISON is the host of "On the Edge with Ken Harrison," a podcast building godly people for a better tomorrow. The podcast, available in both audio and video form, can be found on YouTube and your favorite podcast platform, including Apple and Spotify. The podcast also offers listeners the opportunity to receive a challenging weekly devotional that will inspire them to put their faith into action.
Harrison serves as CEO of WaterStone, a Christian Community Foundation whose clients donate over $1 million per week on average to build God's Kingdom. For nearly 40 years, Waterstone has assisted givers in supporting their favorite charities by crafting customized, innovative giving solutions that empower donors to prioritize income, minimize taxes and optimize giving.
Ken started his career as an LAPD street cop in South Central and then spent nearly two decades in commercial real estate nationally and internationally. After successfully building and growing his company, he sold the majority interest to the second-largest commercial real estate company in the world while continuing as CEO of U.S. valuation and chair of international valuation.
Ken volunteers his time as the chairman of Promise Keepers. His mission is to provide executive leadership and strategic direction to the ministry while inspiring men to be bold, humble and ambitious about their faith.
Ken has been married to his wife, Elliette, for 29 years and they have three children.
Harrison's newest book, The Rise of the Servant Kings: What the Bible Says About Being a Man, is available wherever books are sold.